Rebranding Torrid Denim
In 2011, women's fashion retailer Torrid approached The Zabin Group to completely re-brand the company's denim program. The trendy, plus sized apparel brand wanted to take a departure from their younger, girlish image and update the brand with a modern, edgy twist. After working with a competitor for several years, Torrid sought out Zabin and our renowned creative team, for a fresh, new perspective on the brand.
Creative Process
Torrid gave our creative department carte blanche to redesign everything including their logo, packaging and the trim on their garments. We began our design overhaul with concepts for Torrid's new logo. Included in the presentation were multiple proposals demonstrating how each logo option would translate into full trim programs. We worked closely with the Torrid team through several rounds of revisions to hone the design options into one final, approved logo.

From Logo to Retail Branding
Next, we translated the new logo into an entire trim and packaging program for Torrid denim. This included tack buttons, burrs, fit labels, woven labels, heat transfers, metal plates, back patches, hang tags, leg stickers, price tags, paper jokers, and more. We worked within Torrid's budget to deliver affordable product with a unique and high-end look. The design from our successful denim, trim package was carried through into additional styles, and into the retail branding at Torrid's 190+ U.S. stores.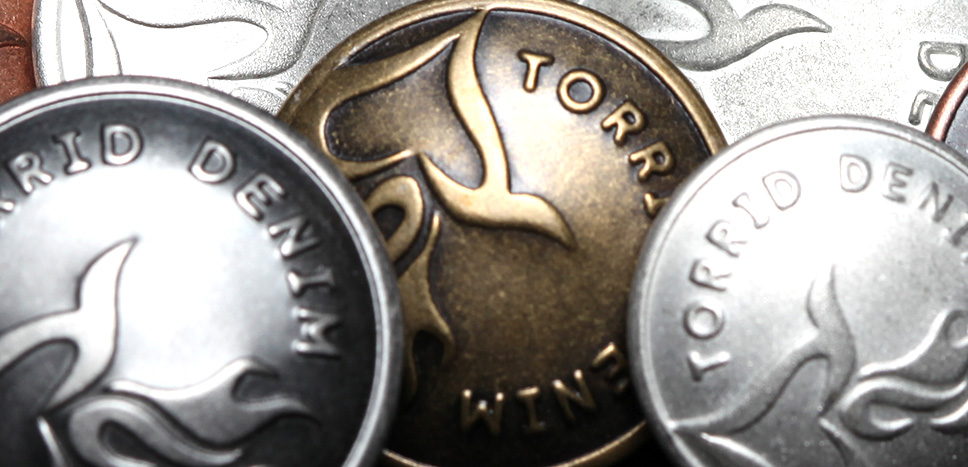 The Results
Zabin's design overhaul for the Torrid brand surpassed all client expectations. What began with a new branding package for their denim program, transformed into a storewide update to the Torrid brand. Our denim rebrand laid the foundation for a strong, ongoing partnership between Torrid and The Zabin Group.