Unifying Lucky Brand Denim
In 2010, Lucky Brand turned to The Zabin Group to rebrand their entire Basic Denim Program, a group consisting of 95% of Lucky's bottoms. For years, the classic all-American fashion denim brand had pursued a separate brand strategy for each style. Through Zabin, Lucky implemented one umbrella brand strategy that unified the look of all basic denim, in store.
Our Strategy
We partnered with Lucky to shift their brand identity away from the outdated western and rocker-inspired look, towards a fresh, chic and contemporary style that was on-trend for a younger, more mainstream consumer. We worked closely with Lucky's executive team to understand their brand strategy, identify all product requirements, and develop conceptual design. As a garment with many complex components, Lucky's denim required rebranding of over 15 identity pieces, including waist, size, and fit labels, back patches, zippers, fasteners, leg stickers, and price tickets. Our design team also considered renditions for every variation of the denim program, resizing and recoloring all identity pieces for women's, men's, big & tall, plus sizes, children's, and colored denim.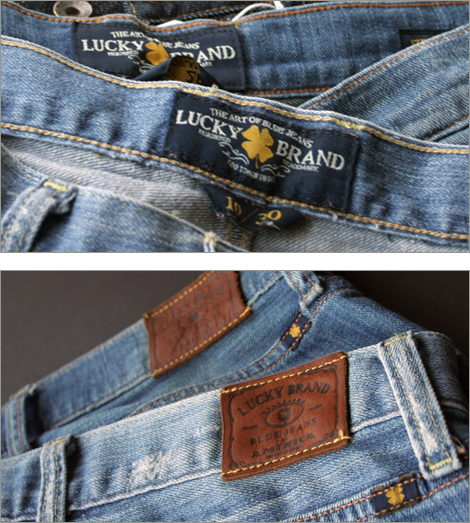 Authenticity In Every Detail
We also used older production techniques to give Lucky's new branding a worn, vintage feel. Our team hand stitched the foldover joker tags through paper to give them a more rugged feel, and pre-washed and dyed leather and other patch materials to look aged. We also provided needle loom labels, a method of weaving from the 1950's and 60s, to give the labels a vintage look that communicated authenticity in every detail.
From Design to Production
After sample revisions, our development team constructed all pieces using cost-effective components that fit Lucky's price point while delivering the high-quality look and feel that Lucky is known for. As Lucky's designated supplier, we leveraged our Zabin-owned factories in China, India and the U.S., and our global infrastructure, to fulfill and distribute all contractor orders.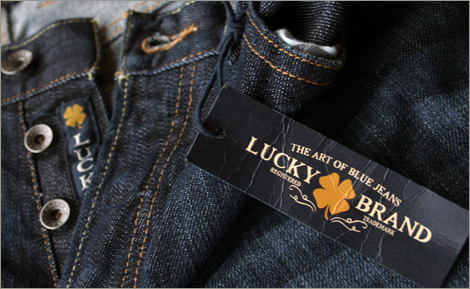 The Results
While sales had been stagnant before Lucky's Basic Denim brand overhaul, denim has since grown to become one of their strongest categories and the largest driver of their business. Zabin has also become Lucky's packaging expert, launching multiple branding initiatives for programs including Lucky Legend and Signature Denim. In partnering with the Lucky team, The Zabin Group delivered a strong, unified brand presence in stores that exceeded Lucky's expectations.